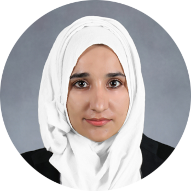 Asifa
[Past member] Internship (May 1st, 2022 to May 31st, 2022)
PhD Student. King Mongkut's University of Technology Thonburi Bangkok, Thailand
asifaasifa1992@gmail.com
Room 03.344 |
DDS
– Department of Data Science.
FAU DCN-AvH
Chair for Dynamics, Control and Numerics – Alexander von Humboldt Professorship
+49 9131 85-67043
I am a PhD student at King Mongkut's University of Technology Thonburi Thailand.
My research areas include fluid dynamics, heat transfer, magnetohydrodynamics, porous media flows, partial differential equations, modeling and simulations, and fractional derivatives.

My posts on Math & Research
Double Slip Effects and Heat Transfer Characteristics for Channel Transport of Engine Oil with Titanium and Aluminum Alloy Nanoparticles

You might like!