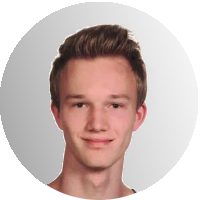 I am a PhD student at the Chair for Dynamics, Control and Numerics at FAU Erlangen-Nürnberg. I am currently working on the subproject C07 "Random batch methods for optimal control of network dynamics" of the CRC-154 funded by the DFG. My main fields of interest are the analysis and optimal control theory of partial differential equations.
I studied mathematics with a minor degree in engineering at Technische Universität Berlin from 2014 – 2021 with a focus on PDE's, variational calculus, differential geometry and the engineering aspects of fluid dynamics. I obtained my Bachelor's degree in June 2018 with a final thesis about the stationary non-Newtonian Navier-Stokes problem and my Master's degree in February 2021 with the final thesis "On the analysis of a variational model for pattern formation in biomembranes".
I had the great opportunity of spending 3 semesters abroad on 2 separate ERASMUS+ scholarships. I studied physics and mathematics for a full academic year at Durham University, UK in 2016-17. Additionally, I studied applied mathematics at the INP Grenoble and pure mathematics at the Université Grenoble Alpes for one semester in 2018-19.
Master Thesis: On the analysis of a variational model for pattern formation in biomembranes | Feb. 28th, 2021
<!—-><!—->
<!—->
<!—->
<!—->
<!—-><!—->
<!—->
<!—->
Approximating the 1D wave equation using Physics Informed Neural Networks (PINNs) Code: • See the complete report by Dania Sana Introduction Accurate and fast predictions of numerical solutions are of significant interest in many areas of science and industry. On one hand, most theoretical methods […]