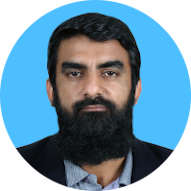 Talha Anwar
[Past member] Internship (December 1st, 2021 to May 31st, 2022)
PhD Student. King Mongkut's University of Technology Thonburi Bangkok, Thailand
anwartalha80@gmail.com
Room 03.345 |
DDS
– Department of Data Science.
FAU DCN-AvH
Chair for Dynamics, Control and Numerics – Alexander von Humboldt Professorship
+49 9131 85-67044
I am a Ph.D. student at King Mongkut's University of Technology Thonburi Bangkok, Thailand.
My research areas of interest are fluid dynamics, fractional calculus, nanofluids, modeling, and simulation.
Currently, my study involves the development of mathematical models for understanding the heat transfer and flow processes in different physical situations.

My posts on Math & Research
A Fractal-Fractional Model for Thermal Analysis of GO–NaAlg–Gr Hybrid Nanofluid

You might like!